This past week,
Tracey Wood
demonstrated to me how powerful word-of-mouth can really be.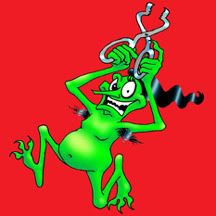 The Query Goblin
had been suffering a very empty maw for several weeks when Tracey put a single endorsement for it on
Query Tracker
, and BOOM! The Goblin's tummy was abruptly full-to-bursting with delicious queries!
So thank you, Tracey, for doing me such a good turn; I truly appreciate it.
(Psst; everyone! Go visit
Tracey's blog
--it's brand new!)
~~~~~~~
And if that weren't enough,
Melodie Wright
recently asked if she could interview my green alter ego on her blog,
Forever Re-Wrighting
. Please click through below to read the result:
Thus Spake Zarathustra Goblin
Thank you, Melodie! It was an honour.
~~~~~~~
In other news, I'm in that stage of writing wherein I wonder if I'm delusional.
In other words, I'm editing what is inching toward becoming a final draft, and I'm liking it! And then I'm second-guessing myself!
Because the problem with having birthed anything is you're kinda prone to adoring it unconditionally. I really don't know if I'm being objective about the merits of this manuscript, so I intend to put it away for a month, write other things, then come back to do a hopefully-more-objective final pass.
Erm, but in the meanwhile, would anyone be willing to critique the first scene of my science fiction novel titled
The Blooddrinker and the War Angel
?
You can get to it via the link below, but you'll have to come back to this post to leave your critique. Anonymous comments are on, however, so let fly! I really do want to hear what you think, good or bad. :)
First scene of The Blooddrinker and the War Angel
Thank you in advance to anyone who chooses to leave a comment--I very much appreciate your donation of time and thoughtfulness!